Top 10 high graphics
and
free android games
today I will share with you.High Graphics game our most favorite. we play it in our Parsonal computer Android and IOS Device. But we don't know Which game are best for us. for that I will share with you these
High Graphics
game. You can
download
these
games
free and you can play on your
android mobile
. below is the
download
link and these
games
list...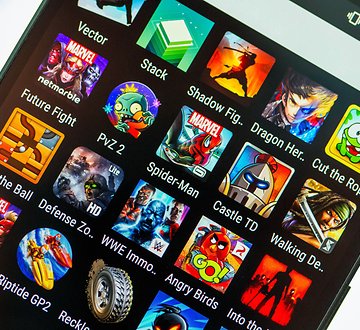 Top 10 high graphics Android Games List
1.
DC Legends
It is a interesting high graphics game. Suddenly a dark night prophecy fells dawn in the world sheer will alone cannot save the shattered DC Universe. You can download it.
Download DC Legends
[FREE]
2.
Marvel Future Fight
A blockbuster action-RPG featuring Super Heroes and Villains from the Marvel Universe! The Avengers, Guardians of the Galaxy, Inhumans, Defenders, X-Men, Spider-Man, and mor
Download Marvel Future Fight
[FREE]
3. Dawnbringer
A land a super hero. Two brothers is there.You blaze towards the world of Mourngard, your angelic wings burn to ash. You and your brother are oblivious to the cataclysmic events you are about to spark, but your arrival could also be the key to salvation.The truth behind the corruption destroying the once peaceful land. Challenge your reckless brother. The fate of the world is in your.
Download Dawnbringer
[FREE]
4. Need For Speed
Never back down as you race anyone crazy enough to take you on, leave them gapped, and increase your rep. Dig, drift, drag, and roll your ride to wins with police on your tail, hitting each inch of the map hard by the time you reach the big end. Burn rubber in over 1,000 challenging races.
Download Need for Speed
[FREE]
5.The Trail
This is angry bard type game. The new game made by Peter , legendary designer and creator of the God Game genre, brings the frontier to life on your mobile device. Peter previous games include Theme Park, Dungeon Keeper, Fable, Populous, and Godus.
Download The Trail
[FREE]
6. Fighting Tiger
You are a Kung Fu fighter, and want to leave your gang, but your gang has other ideas.They want to kidnap your Girlfriend. You need to fight for your girlfriend. Which could end very soon if you make the wrong move.
Download Tiger Fight
[FREE]
7.FIFA Mobile Soccer
PLAY WITH UNRIVALED AUTHENTICITY
Over 30 leagues, 650 real teams, and 17,000 real players make FIFA Mobile an authentic soccer experience you won't want to put down. Score big with your favorite star
Download FIFA Mobile Soccer
[FREE]
8.Zombie Anarchy
It is aSurvival Game. Shoot the undead in the Zombie Hunt mini-game to unlock RPGs, explosive Satchel Charges and other devastating weapons of war you can shoot off from your apocalypse-ready van!
Download Zombie Anarchy
[FREE]
9.Space marshals 2
It
is an adventure science fiction genre game. Play as a specialist on catching criminals in open space and stop prisoners who escaped from jail! Meet the continuation of an awesome game from Pixelbite! Specialist Burton is in again and he is ready to cope with bad guys.
Download Space Marshal 2
[FREE]
10.Temple Run
You've stolen the cursed idol from the temple, and now you have to run for your life to escape the Evil Demon Monkeys nipping at your heels. Test your reflexes as you race down ancient temple walls and along sheer cliffs. Swipe to turn, jump and slide to avoid obstacles, collect coins and buy power ups, unlock new characters, and see how far you can run!
Download Temple Run
[FREE]
So You can Play these game in your Android Mobile. Enjoy These game Properly.
You May Also SEE